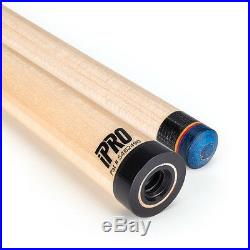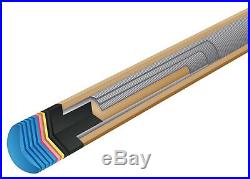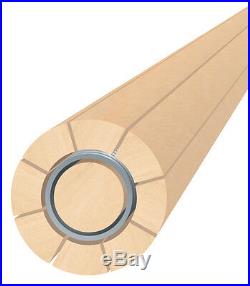 IPro 5/16 x 18 Black Collar. Extra long 31 Shaft. McDermott's Most Radial Consistent. The new iPro shaft has been engineered with a 12.5 mm tip to give you the best possible game and is available in 29″ and 31″ lengths. Each shaft is built to order. Tip: 12.5 mm Blue Navigator Alpha (Medium). Ferrule : Patented tenon tip technology with short black ferrule. Shaft: Octadic Laminated with Hybrid iPro taper. Length : 31″ Long (2 inches longer than standard 29″ shafts). Collar : Solid Black collar. Joint: Flat faced 5/16 x 18 joint. The i-Pro's Radial Consistency Radial consistency is the shaft's ability to reproduce the same results, regardless of its orientation. This means the shaft will perform more predictably from shot to shot. The i-Pro's Octadic Laminated Shaft Construction, combined with its Triple-Layer Carbon Fiber Core, makes it the most radial consistent shaft we've ever made. Octadic Laminated Shaft Construction The Octadic Laminated Shaft Construction features eight spliced pieces of premium maple that are bonded together to form our most radial consistent shaft yet. This construction method drastically reduces the performance inconsistencies caused by natural wood grain. This technology maximizes energy transfer from the shaft into the cue ball at impact, allowing you to generate a higher spin rate while hitting closer to center cue ball. Triple-Layer Carbon Fiber Core The i-Pros Triple-Layer Carbon Fiber Core extends the full-length of the shaft (from ferrule to joint), stabilizing the entire shaft for absolute control and predictability. This technology increases radial consistency, reduces vibration and virtually eliminates the inconsistencies found in a traditional maple shaft. Navigator Alpha Tip Navigator Alpha tips feature multiple layers of Japanese pigskin leather that are bonded, then compressed for 3 minutes. This process results in a tip that mushrooms less and provides a firm and crisp hit. The base layers have a different density, allowing them to act like a bumper. This reduces pressure on the tip and helps protect the ferrule. The wood to wood joint with surface contact delivers a natural feel and solid hit. Other joint options are available on other models. Heavy gauge rolled stainless steel joint pin provides longer lasting thread life and rust resistance. Three-piece butt construction helps provide straightness for the lifetime of the cue. Stains are hand applied which provide for accurate details and color consistency. Precision milling on rings and inlays mean tolerances to within. 001 of an inch. The pieces are then hand glued to ensure a perfect fit. Linen Wrap is 100% Irish linen which is tightly wound, pressed and then lightly coated to ensure perfect fit, a smooth feel and aids in absorbing hand moisture to ensure a consistent grip. The butt cap is made of an impact resistant resin to aid in protection of the butt sleeve of the cue and is double-bonded by an interchangeable weight bolt system that allows you to adjust the weight. Shafts are hand selected from North American hard rock maple and are carefully picked for straightness of grain, proper moisture content, and white color. Shafts are turned four times to unsure stabilization, straightness. Five coats of a high luster clear urethane finish top off a great looking cue and provide scratch resistance. McDermott Cue Manufacturing will warrant this pool. McDermott Cue warrants its pool cues to be free from defects in material and workmanship, including warpage, for as long as the product is owned by the original purchaser/owner. McDermott does not warrant its product against. Normal wear and tear including the tip, the finish, and the wrap. Misuse, abuse or mishandling. Modification or improper maintenance performed by third parties or. Damage caused by exposure to extreme temperature or humidity. Cues manufactured prior to 2004 do not qualify. Adjust weight upon request. Be sure to check our. At Billiards Heaven, we strive to offer excellent customer service! We are available Monday to Friday 10:30 a. To 4:00 p. Please send a message and someone will get back to you as soon as possible. We want to earn your business now and in the future. Pool Cues (if applicable). If you do not specify a weight, you will generally receive a cue around 19 oz unless otherwise requested. Cue Tip Change : In many cases we can change the tips on our cues to one of your preference. We stock a wide variety of the most popular tip brands. There will be an up-charge for the labor and cost of tip. Therefore, it may appear that it is not moving, but that is probably not the case. And delays may occur, especially around holidays or severe weather conditions. ESTIMATES WILL NOT APPLY TO THESE LOCATIONS. Some Middle Eastern, African, South American and Island Nations may take longer. Thank You Again for Shopping with us! Billiards Heaven Customer Service. Monday thru Friday 10:30 a. Closed Weekends and Bank Holidays. The item "McDermott iPro High-Performance 31 Pool Cue Shaft Black Collar 5/16 x 18 Joint" is in sale since Monday, June 25, 2018. This item is in the category "Sporting Goods\Indoor Games\Billiards\Cues". The seller is "billiardsheaven" and is located in Tracy, California. This item can be shipped worldwide.
Brand: McDermott
Model: i-Pro
MPN: 18BC31
Cue Type: Shaft Only
Country/Region of Manufacture: United States
Length: 31″
Joint Size: 5/16″ x 18
Should fit cues:: Meucci, Players, etc.